Save the Date
9th Annual ʻĀina Fest
November 3rd, 2018 12-10 pm
Kohala Village Hub
ʻĀina Fest, previously known as Kohala ʻĀina Festival, is now in its 9th year! Born out of husband and wife team Dash & Erika Kuhr's desire to share the abundant food and vast potential for healthy living in Niuliʻi, ʻĀina Fest grows richer in offerings and attendance each year. This powerful & unique day-long event features a packed schedule of world renowned & local musicians, performing artists, hands-on land based education, Hawaiian cultural activities, keiki activities, yoga, arts & crafts vendors & an abundance of organically grown, farm fresh food.
Together, we rise up to celebrate and empower local farmers & the vibrant movement for island-wide food sovereignty. 100% of proceeds from the event support the three core pillars of HIP Agriculture's programming: Residential Farmer Trainings, Youth Education & Community Events.
TICKETS: $50 in advance, $60 at the door
Keiki 12 and under free - must be accompanied by a guardian (limited # available)
MUSICIANS
Featuring: Nahko, Paula Fuga, Paul Izak, John Keawe, Ok2Change, Kaʻahele and more…
PERFORMING ARTISTS
Featuring Robyn Chance Live Painting and Hula Halau Kukui Aloha O Kohala
EDUCATIONAL ACTIVITES
Cultural and environmental leaders forum: "Native Perspectives on Building Resilience", Hands-on permaculture planting blitz, workshops, yoga and more…
CynthiArtistry face painting, games and crafts with Leilani Silver, and jungle gym fun zone!
VENDORS
Healthy locally grown and sourced food from multiple vendors & Conscious goods & crafts from local artisans
CAMPING & LODGING
There is NO overnight camping allowed at the festival grounds. Please ensure you have alternate camping or lodging if you intend to sleep in the Kohala area on 11/3.
WATCH HIGHLIGHTS FROM
2017 ʻĀINA FEST
Kohala Village HUB Barn & Surrounding Green Space
Located at 55-514 Hawi Rd, Hawi, HI 96719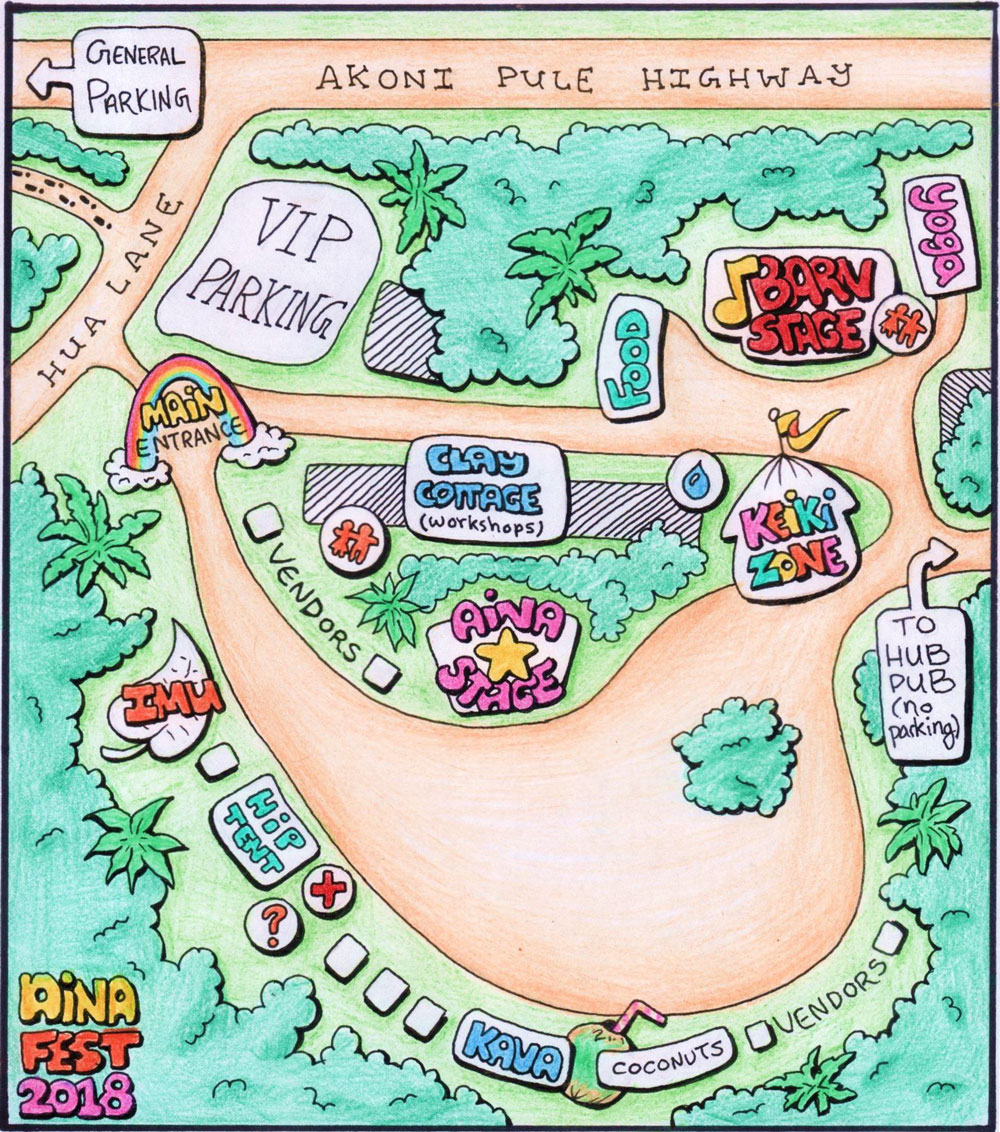 Located in Downtown Hawi
Festival Parking:
Entrance to the Festival Parking Field is: 55-3398 Akoni Pule Highway up Kahei Road. Turn mauka up Kahei Rd. - right across the street from the North Kohala Community Resource Center. If you are coming from the south on the coast road, you will turn right on Kahei just after the 21 mile marker. If you are coming from Hawi, Kapa'au, or Mountain Road, drive past the shops and galleries in Hawi town as if you were heading down the coast, and you will turn left up Kahei road.
Please help us kokua and prevent congestion in our small community by not parking in Hawi town.
Festival Entrance:
Festival Entrance is up Hua Lane, mauka of Akoni Pule HIghway. There is a pass through between the Kahei Road parking field and Hua Lane, so you will not have to walk on the highway.
Handicapped Parking:
Entrance to Handicapped Parking is: 55-514 Hawi Road. You will enter into the Kohala Village HUB parking lot, and can park in the grassy area in the upper left corner of the lot (from the parking lot entrance).
Handicapped Entrance:
There is a small side gate for handicapped entry only, right next to the Handicapped Parking area.
Mahalo for attending
See You Next Year!